TRUE IV
₹2,300 Incl. GST
& Free Shipping
Availability: In stock
Gut Health

Benefits
– Improves digestion by providing beneficial enzymes
– Improves absorption of nutrients
– Beneficial for dogs with EPI and pancreatitis or pancreatic damage
– May help with reducing coprophagia in dogs
– Beneficial for dogs struggling with food allergies or intolerance
– Beneficial for dogs struggling with chronic digestive issues such a mucus in stools
– Supports the immune system
– Supports enzyme replacement needs
Ingredients
Animal source Protease and Plant source Papain – Breakdown & improved absorption of protein.
Animal source Lipase – Improved absorption of fats.
Animal source Amylase – Improved absorption of carbohydrates (starch)
Storage
Store in a cool and dry place – Away from sunlight, heat and moisture
Always use a dry spoon
Feeding Instructions
1/4 tsp per 10 – 11kg body weight.
Directly mix the powder into the meal, leave for 10 – 15 minutes before feeding.
Do not cook the meal or add hot water if the product has been mixed.
Start with small quantities and increase to recommended dosage.
In case your dog is doing better on lower dosage, it is safe to stick to lower dosage.
Caution
Do not mix with dry food, rehydrate the meal with water or bone broth before mixing the enzymes into the meal.
Although enzymes are meant to help with digestive issues, in case of discomfort, gas, vomiting or digestive issues after consumption of enzymes – Discontinue immediately. The product might not be suitable for your dog.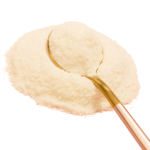 TRUE IV
Your review
* Review is required
Email
* Email is required
Add photos or video to your review