Samudra: Freeze-Dried Shrimp
From ₹850 Incl. GST
& Free Shipping
Samudra Freeze-Dried Shrimps are wild caught and freeze-dried whole, they come in 40gm jars. Please refer to feeding instructions before purchase.
Freeze - Dried, Samudra

Benefits
High in protein.
Perfect training treats.
Rich in B Vitamins, calcium, iron, magnesium and omega 3 fatty acids.
Grind and add to the meal for fussy dogs.
Great as training treats.
Ingredients
Wild caught ocean shrimps
Storage
Store in a cool and dry place or keep refrigerated.
Reseal the jar after opening or transfer to an airtight container.
Use within 90 days.
Feeding instructions
1-5 pieces per day depending on the size of your dog.
*Start small and increase to desired feeding quantity.
*Not suitable for XS dogs unless ground.
*Feed at least 2-3 times a week.
*Shrimps can be used as a meal enhancer.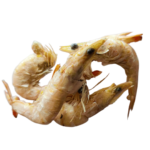 Samudra: Freeze-Dried Shrimp
Your review
* Review is required
Email
* Email is required
Add photos or video to your review