Elixir – Medicinal Mushroom Blend (80gm)
₹1,350 Incl. GST
& Free Shipping
Elixir is a blend of medicinal mushrooms with extraordinary antioxidant properties.
Turkey Tail, Maitake, Lion's Mane, and Red Reishi have high nutritional value with minerals, vitamins and enzymes.
– Builds immunity
– Anticancer  
– Prevents heart disease
– Improves joint health
– Prevents and helps with UTI
– Prevents and helps manage diabetes
– Improves digestion
– Helps with detox
– Helps with allergies and improves respiration
Small Dogs: 1/4 tsp or 1.2 gm
Medium Dogs: 1/2 tsp or 2.5 gm
Large Dogs: 3/4 tsp or 3.5gm
*To be used only 3 times a week.
*Per day quantities.
*Start with a pinch and gradually increase to recommended feeding quantity.
This pack of 80gm will approximately last you for:
Small Dogs: 5.5 months
Medium Dogs: 2.5 months
Large Dogs: 2 months
*Use within 6 months of purchase.
*Store in a cool, dry place and always use a dry spoon.
*Color of the actual product might vary from the picture.
Availability: In stock
Meal Enhancer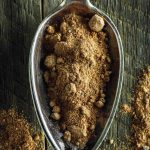 Elixir - Medicinal Mushroom Blend (80gm)
Your review
* Review is required
Email
* Email is required
Add photos or video to your review